This spot on White Iron Lake began as Forest Gate Resort and then became Outdoor Adventure Canoe Outfitter for 40 years.  We first came to this property for the canoe outfitting and returned almost yearly for long canoe trips into the Boundary Waters Canoe Area Wilderness.  During that time we fell in love both with the wilderness and this end of White Iron Lake.  In 2007, the outfitting business was sold and the property became the Retreats on White Iron Lake, a community of individually owned cabins that are available for rent.  Even without an outfitter onsite, we kept using it as the base for our camping trips so we could enjoy this spot and see our friends, Kerry and Sandy Davis and Pete and Barb Barton, the final owners of the outfitting business and the founders of the Retreats.
In September, 2012 we took the plunge and embarked on converting an old, employee cabin into our dream cabin.  Other than the charming mural, it wasn't much to look at when we started:
While it was only 240 square feet, Kerry assured us that it was strong and ready for remodeling.  Starting almost from scratch, we had the chance to really create just what we wanted on a site with excellent views.

The first step was to move the cabin aside and build a new foundation that would lift it off the ground so we could expand it.  While the crews worked on the ground, we drew up plans for the remodel.  Those plans went through about 30 iterations between Kerry, John Davis who would build the new cabin, and ourselves.  We got a lot out of their experience with both construction and what makes a good cabin.  And they put up with our somewhat unusual ideas and desire to fit a lot of features into a small space.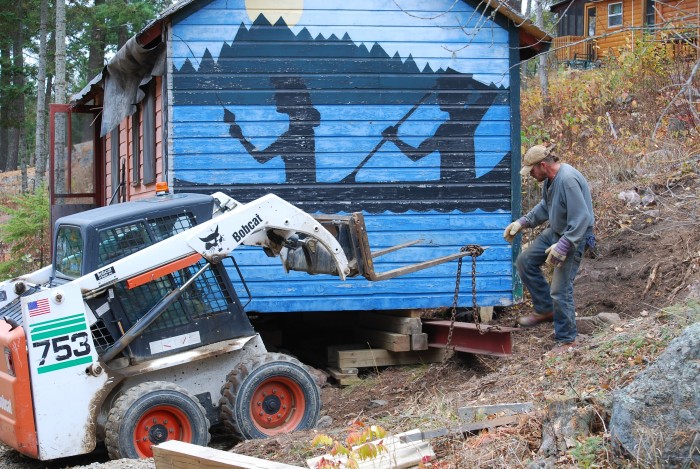 Clearly it had to be in good shape to survive being moved about and lifted up.  The next step was to remove the roof and front wall.  The remaining three walls form the back half of the main part of the cabin.  When you are in the bedrooms or bathrooms, then you are in the old cabin.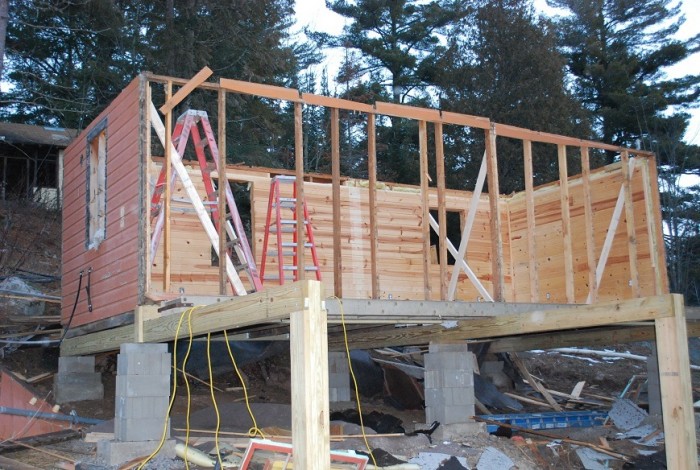 Next the walls were extended forward to form the main room which contains the kitchen, kitchen table, and built-in daybed.
At this point the cabin has doubled in size to 480 square feet.  Then the roof went on and the three season room was added bringing it to 640 square feet.
John Davis and his crew were racing to get the entire structure framed in before it got below 20 degrees.  But they were still working outside with snow on the ground and icicles on the roof.  Once it was framed in, they could work inside with a heater.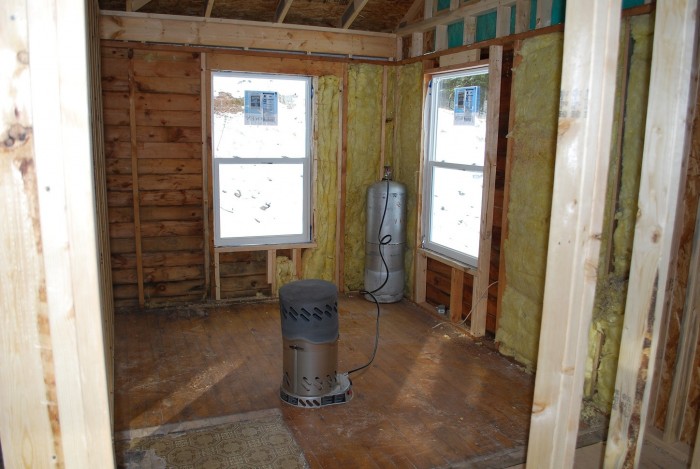 Now the studs went up and we started to see if 2 bedrooms and 1.5 baths were going to work.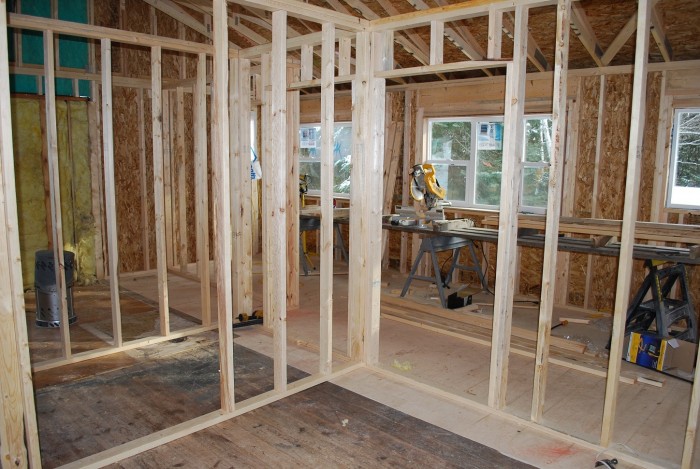 And eventually, through a lot of bad weather, both the interior and exterior took shape.
Then it was on to outfitting the cabin with cabinets, fixtures, appliances, and the built-in beds, daybed, and benches.  It was a hectic process that went through the end of June, 2013.  We didn't see the cabin between September, 2012 and July, 2013.  Working remotely required us to completely trust John and Kerry and the final result is truly a collaboration between us and them.  Sandy Davis stepped in and let us know what we would need to get the cabin outfitted and ready to rent.
Finally, on July 2, 2013 we got to Ely to see the final result and were just estatic with how it turned out.  We spent a week setting it up, making runs from Ely to Virginia, MN to shop at Menards and Target, down to a final all-nighter spent putting up pictures, making sure everything worked (we had to run the heater on a hot July night), and at the last minute putting on the kitchen drawer pulls.
Then we did a final cleaning and took the pictures you can see in the galleries.
So what makes it our dream cabin?  It has two bedrooms with full beds because many of our camping trips are with another couple.  It has lots of extra sleeping space and 1.5 baths for trips with groups of our nieces, nephews, and the next generation.  It has a tub to get really clean after a long camping trip.  And it has lots of windows to keep us connected to the outdoors even when inside.  Even with all of those features, the cabin feels roomy and flows well.
Our only regret is that the mural had to be covered up with the new siding.  But we have a plan to bring it back in miniature.